Testimonials
We are a group of three retired couples from India and wished to travel to South New Zealand. We found Paul through Tripadvisor and would highly recommend his professional help during our recent trip. He and his team made our trip memorable by taking us in the best places, patiently answering all our questions, filling us with history of places we saw. I would highly recommend him to people who would prefer to br driven around in comfort .
Arun
(From Trip Advisor)
I found out about Paul after scouring online and reading all the positive reviews and I'm so happy we used his service instead of going with the normal tour. My family and I, a total of 8 people with a mix of elderly, have had the best tour ever. He personalised our tour with recommendation of places to visit and planned out our itinerary bearing in mind that half of our group are elders over 70s. I just need to book our accomodation as per plan allowing us to stay in places we're comfortable in which I preferred.
Caroline S
(From Trip Advisor)
Let us create you a customised NZ tour itinerary
Once you book, after payment of a deposit we can then take the time to create a specific itinerary, customised for you that perfectly suits your timeframe for your tour around New Zealand. The itinerary advises what towns or cities we require accommodation in. 
You then book your own desired level of accommodation in those locations. Or if you have already pre booked your accommodation we will try to design a tour itinerary to work in with your pre-booked stops. It is best to let us suggest where we overnight in order to allow the tour to flow and you to see as much of the country as possible in your timeframe as our roads take a lot more hours to drive between destinations than most visitors think its going to!
NZ CRUISE SHIP EXCURSIONS
We provide day trip excursions from the ports of Auckland, Tauranga, Wellington, Picton, Nelson. We can also do multiple port excursions where we meet you at each port (both islands) and provide you shore excursions in each port of your cruise just exclusively for your group not shared with other passengers.
We can provide suggested day trips in each port or simply take your group exclusively to something you already want to do, just let us know and we can quote or suggest day tour options as required for the above ports.
WE CAN OFFER TOURS AROUND ANYWHERE IN NEW ZEALAND (BOTH ISLANDS)
TOUR AUCKLAND TO ROTORUA 1 AND 2 NIGHT TOURS (customised to suit you)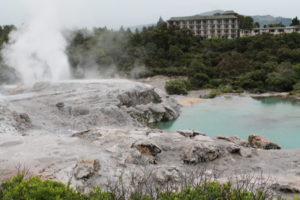 We collect you from your Auckland accommodation and create an itinerary that suits your couples or groups walking ability or adventure your seeking. Remember its just yourselves and our driver in our vehicles exclusively for you, not random public to make up the numbers.
Typically our tours take clients on day 1 from Auckland to Waitomo glow worm caves before continuing on to Rotorua arriving in evening.
The next morning 9am start we usually visit Te Puia geothermal park where you can see a maori cultural performance and haka as well as New Zealands highest spurting geyser, a kiwi bird in the nocturnal kiwi house and traditional maori art and crafts being made as well as an excellent buffet lunch available at their cafe.
After lunch, options we can do depend on the group but can include visiting the Blue Lake, before the Redwoods Tree Walk then the Gondola and luge ride, before returning back to your Auckland accommodation point arriving that evening day 2.
If staying 2 nights we also have options for day 3 that can include either taking a River Rafting on the Kaituna river, where you go over a 7mtr high waterfall in the raft (the worlds highest commercially rafted waterfall) Or You could do a Rotorua Canopy tours zipline Which is like a flying fox up in the treetops of hundred year old native forest Or if not wanting that type of adventure you may prefer to visit the Agrodome or perhaps just a visit to Hobbiton after a morning stroll lakeside in Rotorua first before returning to Auckland late afternoon day 3.
We can provide a quote to do whatever it is you wish to enjoy on this mini break away,(and it can be for longer and take in more than just Rotorua if wanted).  
Let us know if wanting a quote for any of the above or any other destinations your wanting to visit from Auckland or any areas around NZ over a few days and we can quote to go anywhere you wish.  
GREYMOUTH to FRANZ JOSEF to QUEENSTOWN 
This is one of our popular routes we offer for our overseas clients and agents.
We collect clients off the Tranz Alpine train from Christchurch at Greymouth station at 1.05pm on arrival, we then take them to see Hokitika and the countries Jade carvers in action before heading to Hokitika Gorge, one of the most stunning places every Kiwi should see. Then we continue to Franz Josef Glacier for the night.
Next morning the clients usually do a scenic helicopter flite for 30 mins that includes a snow landing before we head off on Haast pass to Wanaka and then on to Queenstown arriving late afternoon. Several stunning scenic stops are done en route to Wanaka
We can simply end here in Queenstown on evening of day 2 or we can quote to continue day 3 with a visit to Glenorchy and Paradise,(Lord of the Rings film locations) and probably New Zealands most stunning scenic drive, or we can even quote to drive you to Milford Sound, Te Anau,or back from Queenstown to Christchurch via Mt Cook, Tekapo, Oamaru to see the penguins parade just depends how many days you want.
Let us know if youd like a quote for any of these areas also and for how many you have in your group, and where youd like us to start and end with you.
We know all the most epic spots to show you around New Zealand, we are all born and bred Kiwis based in both islands. We would love to have you on board and guarantee you will have a quality experience if you come with us!